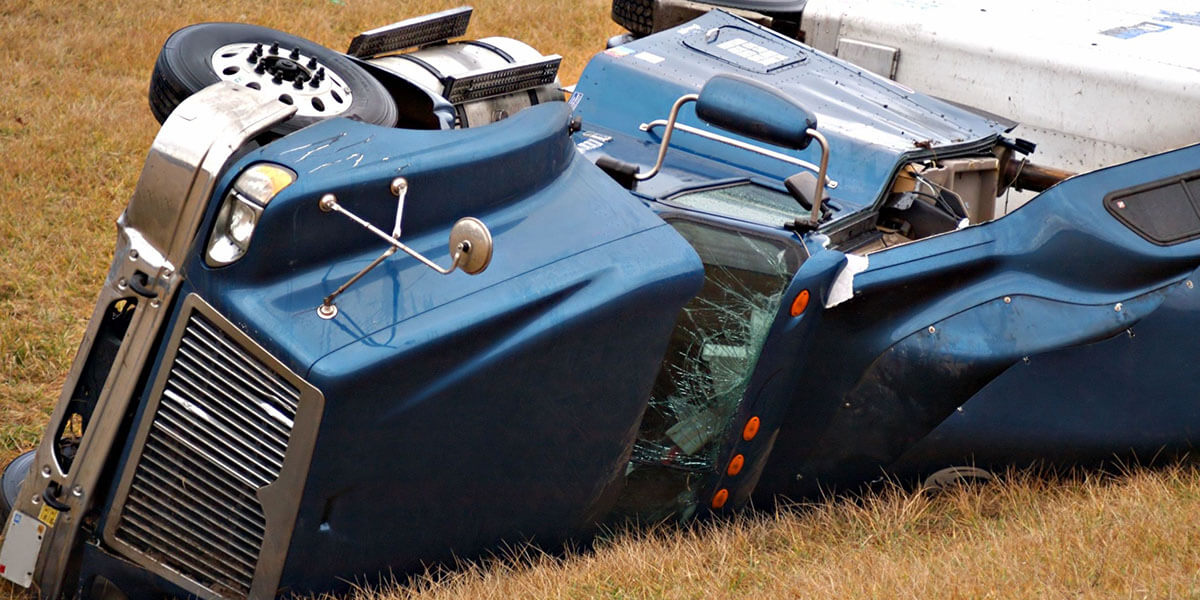 1TRUCKING & AUTO LIABILITY (3rd PARTY BODILY INJURY AND/OR PROPERTY DAMAGE)
• Check for injuries – when in doubt, call an ambulance. Life and health are more important than damage to vehicles.
• If the accident is minor, with no serious injuries, move vehicles to a safe place out of moving traffic/harm's way.
• Turn on hazard lights, and, if possible, use cones, warning triangles or flares for safety.
• Call the police, even if the accident is minor, to provide both sides with an outside confirmation that the accident occurred.
• Obtain contact information pertaining to the other party(s).
• Notify our Claims department or your insurance carrier about the accident immediately and make sure that the insured driver fills out an auto accident report immediately following the incident while facts are still memorable.
• Do not sign any documents unless they are for the police.
• Immediately take notes about the accident and be sure to include specific damages to all vehicles involved, as well as possible witness information. If the name on the auto registration and/or insurance policy is different from the name of the driver, establish the relationship and write it down.
• Do not accept fault for the accident. You may jeopardize coverage under your insurance by admitting liability. Also, do not accuse the other drivers of being at fault or try to make a cash settlement with the other party at this time.
• Try to stay calm and state only the facts. Limit your discussion of the accident to the insurance broker and the police. Even if the facts are embarrassing or detrimental to you, be truthful. Watch out for lawyers asking you to give a statement. Allow you carrier to determine when you should speak with a lawyer representing the other party.
• If possible, try to photograph the accident scene.
• If possible, do not leave the accident scene before the police and other driver(s).
• Notify the police if your vehicle is carrying any hazardous materials which might leak and let them determine if the fire department should come to the accident scene.
• Finally, remember that while getting the facts is very important, investigating the accident should be left to the police and the insurance companies.
2 CARGO
• Do not discard any damaged items. The insurance adjuster will need this evidence.
• Keep all receipts and bills. Remember, a bill of lading is typically required to settle all trucking cargo claims.
• Regarding all refrigeration breakdown claims, get evidence of mechanical breakdown from a professional mechanic.
• Protect your Cargo from further harm or loss (e.g., hang tarps, trans load to another trailer and complete delivery if possible).
• Call Bondar Insurance's Claims department and/or contact your insurance carrier to report the loss.
• In the event of a fire loss, obtain the fire department incident number so the report can be obtained.
• If a cargo loss caused damage to property owned by others, call Bondar Insurance's Claims department to assess if a liability claim needs to be registered.
3WORKER'S COMPENSATION (INJURY TO EMPLOYEE OR INDEPENDENT CONTRACTOR)
• If appropriate, offer first aid. Otherwise, if medical attention is needed, refer your employee to an Occupational Health Clinic. For serious injuries, transport the employee to the nearest emergency room. The choice of medical providers is different for each jurisdiction. Our Claims department can provide additional information on jurisdictions.
• Show concern for your independent contractor/employee's well-being and keep in touch to stay informed of the recovery/progress.
• Inform your employee that most states have "a fee schedule" -which prevents doctors and hospitals from balance-billing them.
• Most states have minimum and maximum rates to pay the employee for lost-time benefits.
• Typically, the temporary total-disability rate is 2/3 of the employee's average weekly wage, which is a tax-free benefit.
• The lost-time benefits commence if your employee loses time from his/her job after a waiting period of 3-7 days, depending on the jurisdiction.
• Some eligible medical benefits include chiropractic, doctor, hospital, physical therapy, etc.
• Check your state's Web site for employee or employer rights.
4GENERAL LIABILITY
• Should a slip and fall occur from a foreign substance, mark-off the area and arrange for immediate clean-up.
• If bodily injury occurs, offer first aid but never admit to fault or commit to paying any medical/hospital bills. Let the insurance company handle that decision.
• If it is a product's claim, preserve evidence.
• Document all facts immediately after the accident is reported and keep copies of related paperwork to share with the insurance adjuster.
• Photograph any evidence and/or the accident scene. If possible, obtain a copy of any videos of the scene.
• Fax or e-mail any lien letters, attorney letters, suit papers or similar documents directly to the claims adjuster.
• Do not make offers to settle a claim. Allow the insurance company to handle all offers.
• Do not hire counsel without first checking with your insurance carrier.
5PROPERTY
• Do not discard any damaged items. The insurance adjuster will need this evidence. • Protect your property from further harm or loss (e.g., hang tarps and board windows if necessary).
6EMPLOYMENT PRACTICES LIABILITY
Employment Practices Liability (EPL) insurance is typically triggered by the date claims are made (generally the date your company receives notice of a claim rather than the date of the alleged incident) rather than by the occurrence date. Most of these policies define a claim as follows:
• A written demand for monetary damages.
• A civil proceeding commenced by the service of a complaint or similar pleading.
• An arbitration proceeding.
• A formal administrative or regulatory proceeding commenced by the filing of a notice of charges, formal investigative order or similar document. The equal Employment Opportunity Commission, Department of Labor or similar state agency will usually issue such charges.

If you receive any employment practice-related documents, send written notice (including policy number and copies of all pertinent documents) immediately to Bondar Insurance's Claims department at claims@bondarins.com or fax (630) 570-0046.

Our recommendations for handling claims include:
• Do not make offers to the claimant before talking to the insurance adjuster.
• Do not attempt to self-handle the claim and/or report the claim later (i.e. when rulings go against the company).
• If you have engaged defense counsel, notify your insurance carrier immediately. If you do not have a preferred attorney, the insurance adjuster can provide the names of firms who specialize in this practice.

If you have any questions about reporting employment practice liability claims, or any other claim matters, please contact our Claims department at (630) 570-0074 Ext 3.